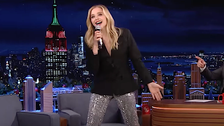 Moretz, the "Kick-Ass" alum who now stars in the film "Mother/Android," said she can sing like Spears "after a couple of tequilas."
But with some prodding from host Jimmy Fallon, the actor performed without liquid courage. She really got into it, too, on the pop star's "Baby One More Time," employing some of Brit's stage moves as well.
Spears, newly emancipated from a controversial conservatorship, might appreciate Moretz's effort.
' Este Articulo puede contener información publicada por terceros, algunos detalles de este articulo fueron extraídos de la siguiente fuente: www.celebrity.land '