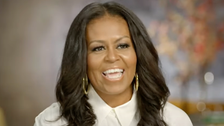 Replied Obama: "Actual dessert! … You pretend like, 'Oh I'm so glad we're having berries' when you're really thinking, 'Where's the pie?'"
Both sides of the aisle can probably agree on that.
The "Becoming" author also offered a mic drop of an argument in the chocolate vs. vanilla debate.
"Chocolate all the way," she said. "I don't even understand vanilla. Vanilla is just sort of a disappointing chocolate."
Calling all celebrity.land superfans!
Sign up for membership to become a founding member and help shape celebrity.land's next chapter
' Este Articulo puede contener información publicada por terceros, algunos detalles de este articulo fueron extraídos de la siguiente fuente: www.celebrity.land '