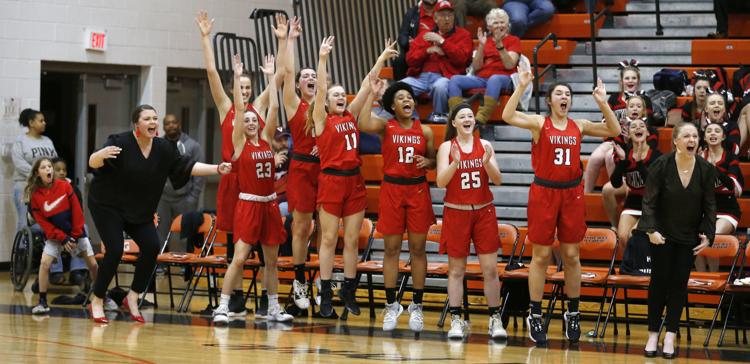 GIRLS
TEAMS TO WATHCH
Bishop McGuinness: Coach Brian Robinson will build around sophomore F Tate Chappell and senior G Michelle Petrangeli after guiding the Villains to the Class 1-A East Regional final last season.
Dudley: The Panthers add Ragsdale transfer Gs Diamond Monroe (Elon signee) and Mariah Frazier (Appalachian State) to Towson signee C Quinzia Fulmore and senior G Marissa Wooten to give coach Frank McNeil four outstanding seniors.
Northern Guilford: Jayla Harris is a significant loss on and off the court, but senior F Milan Gordon, senior G Taylor Haynes and sophomore F Jadyn Newsome have helped coach Kim Furlough's Nighthawks win some big games.
Northwest Guilford: The Vikings lose Megan Harkey, Reagan Kargo and Thalia Carter, but G Aniston Greene, C Jadyn Murray, G-F Shaena Riddles and G Madison Young are back for coach Haley Hackett, and they understand the expectations at Northwest.
Southeast Guilford: Losing Raven Preston to Quality Education Academy in Winston-Salem and two-time All-Area Player of the Year Kennedi Simmons to graduation hurts, but F Jessica Hopkins, F Millayna Redd and G Sydney Roberts are back and the championship culture coach Rachel Clark and her staff have built isn't going anywhere as the Falcons seek another Class 3-A title.
' Este Articulo puede contener información publicada por terceros, algunos detalles de este articulo fueron extraídos de la siguiente fuente: greensboro.com '