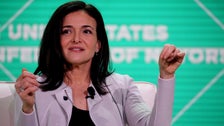 Sandberg, who lost her husband Dave Goldberg in 2015, noted that it's a "terrible club" to be in and stressed that those who have lost spouses often "feel like we're going to be alone forever."
"When you get married, when you make a commitment to a partner, you look out into the future and you think you're going to be with that person. And then when that person is taken from you, whether it's long and slow or suddenly, that fear goes on," she said.
She went on to say that after you lose a spouse, "the topic of dating is very hard" and encouraged Kloots to be open to dating.
Kloots recently shared on an episode of "The Talk" that she's begun dating again at 39 years old and received an onslaught of backlash because some argued it was too soon after Cordero's death in July 2020.
"We need encouragement. And it won't shock you to know that we judge women more harshly for dating after death than we judge men," emphasized Sandberg, before sharing an anecdote from her own experience.
Sandberg said her brother sent an email, which was apparently meant for her sister, that said: "It's time for us to talk to Sheryl about dating. She needs to know she's not going to be alone forever. And she needs to know it's OK."
The 51-year-old said it was months after her husband had died and that it made her realize "the love he had."
"My brother was the first person. He sat me down. He said, 'If you are a man, you would start dating now,'" she said. 
' Este Articulo puede contener información publicada por terceros, algunos detalles de este articulo fueron extraídos de la siguiente fuente: www.celebrity.land '