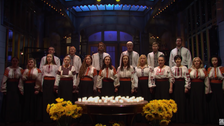 In a moving moment of solidarity, "Saturday Night Live" opened its show not with jokes but with a powerful tribute to Ukraine.
The Ukrainian Chorus Dumka of New York took the famous Rockefeller Center stage to perform "Prayer for Ukraine," a patriotic Ukrainian hymn and anthem, during the show's cold open. The sobering performance followed Russian President Vladimir Putin's military invasion into the country earlier in the week.
"It is a prayer to God to save Ukraine and to bless her with freedom, good faith and good fortune so that her people would love her for many, many years," the choir's director and conductor, Vasyl Hrechynsky, told celebrity.land Sunday of the 1885 song selection, which is also known as "God Bless Ukraine."
"It has continued to be a way that we express our faith in God and that He will allow Ukraine to persevere especially in this most critical time of aggression and war," he added.
"SNL" cast members Kate McKinnon and Cecily Strong introduced viewers to the choir. Following the performance, the camera panned to white candles on a table that spelled out "Kyiv," the Ukrainian capital, as the audience sat in silence.
It's a rare event for the decadeslong comedy show to open with such a solemn act.
' Este Articulo puede contener información publicada por terceros, algunos detalles de este articulo fueron extraídos de la siguiente fuente: www.celebrity.land '