Indoor live music with an audience has been allowed to return since 15 August. But what venues are open and which orchestras are returning?
The government has announced that indoor performances with audiences can begin again on 15 August, paving the way for the long-awaited return of live classical music and other performing arts, following the devastating impact of the coronavirus pandemic.
Outdoor concerts have also been given the go-ahead, with safe social-distancing in place.
But, after the closures and devastating job cuts caused by the ongoing coronavirus pandemic, will concert halls and other venues be able to re-open right away? And which orchestras will be able to return? Below is an updating list of live events we've spotted that you can attend in person.
Fidelio Orchestra Café combining beautiful music and great food
When pubs were allowed to reopen on 4 July, Fidelio Orchestra Café in London welcomed punters back in a COVID-safe capacity, bringing with its refreshments performances from leading musicians.
Under the tag 'bringing live classical music back' the café has welcomed people to hear performances for Steven Isserlis, Alina Ibragimova and Samson Tsoy safely, with appearances from pianists Pavel Kolesnikov, Louis Schwizgebel, and Charles Owen, and actor Simon Callow reading Shakespeare, throughout July and August.
On the bill for September were Beethoven sonatas from Tamsin Waley-Cohen and Huw Watkins; trios from violinist Thomas Gould, pianist Mishka Rushdie Momen and cellist David Waterman; solo piano instalments from Misha Rushdie Momen and Gabriele Carcano; and an eclectic programme from violinist Viktoria Mullova and bassist Misha Mullov-Abbado.
And coming up – pianist Angela Hewitt, and violinist Nicola Benedetti among many other wonderful musicians. The atmosphere is wonderful, the food is truly delicious and you're treated like gold the moment you walk in – and, LIVE MUSIC.
Visit: fideliorchestra.art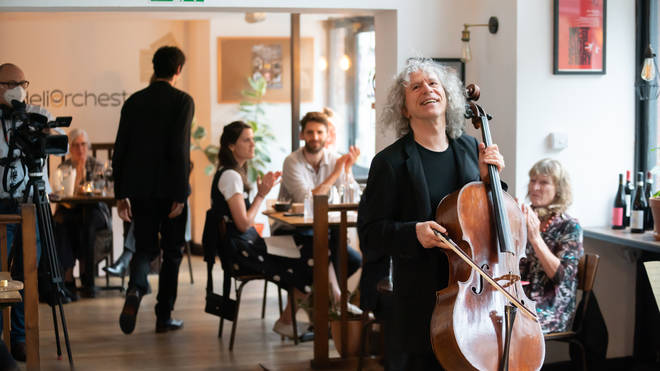 City of Birmingham Symphony Orchestra 'Live at the Centre'
Our partners, City of Birmingham Symphony Orchestra (CBSO) are bringing live classical music back to audiences in Birmingham.
Following their superb, one-off 100th birthday concert, members of CBSO will be playing together once more, at the CBSO Centre on Berkley Street, in a series of special chamber concerts for socially-distanced audiences every Friday.
Starting on 16 October, audiences can get hold of tickets for a wonderful selection of programmes – including music by Shostakovich, Stravinsky, Holst, Arnold and more – with upcoming programmes announced later on.
Tickets are only £15, and will be made available on the CBSO website a week in advance for each concert. We've all been missing live music so much in the past few months, it's wonderful to see our fine orchestras returning to us.
Visit: www.cbso.co.uk
Live music returns to Liverpool Philharmonic Hall
Classic FM's Orchestra in North West England, the Royal Liverpool Philharmonic (RLPO) is returning to Liverpool Philharmonic Hall in Autumn with a flourish – welcoming back chief conductor Vasily Petrenko as well as new chief conductor designate, Domingo Hindoyan, for his first appearance with the great orchestra since since being appointed.
Not only that – but starry soloists Isata Kanneh-Mason, Roderick Williams and Tasmin Little will be among those appearing in the RLPO's programme of 're-imagined' concerts.
Visit: www.liverpoolphil.com
Cadogan Hall welcomes audiences back
London's Cadogan Hall has just announced that it will be reopening to socially-distanced audiences from Wednesday 30 September.
Expect lunchtime concerts from musicians of the Royal Philharmonic Orchestra, instalments from the EFG London Jazz Festival, and child-friendly orchestral concerts going into the festive season at the beautiful venue.
Tickets start to go on sale on Friday 4 September.
Visit: cadoganhall.com
Bournemouth Symphony Orchestra invites socially-distanced audiences to Poole
Classic FM's Orchestra in the South of England, Bournemouth Symphony Orchestra (BSO), is inviting socially-distanced audiences back to Lighthouse in Poole for 12 special concerts in the Autumn.
The orchestra's first since lockdown began in March, the concerts will take place between 30 September to 16 December – and will feature newly-commissioned works as well as favourites by Beethoven, Brahms and Tchaikovsky, and many more.
With chief conductor Kirill Karabits at the helm, the BSO's thrilling Autumn season will also be available to stream online for £6 a ticket.
Visit: bsolive.com
London Symphony Orchestra returns to the Barbican
London Symphony Orchestra (LSO) – one of Classic FM's partner orchestras – is returning to the Barbican as it reopens to limited audiences.
Performing for socially-distanced audiences and for future broadcast, the LSO will be continuing its planned Beethoven 250 celebrations with eleven concerts featuring the great piano concertos, performed by Krystian Zimerman and conducted by Sir Simon Rattle, in November and December.
Visit: lso.co.uk
We're reopening our concert hall doors?

From our Hall to your home – join us as live music returns to the Barbican this autumn with live-streamed concerts from artists across our programme. Watch live from your living room or attend in-person: https://t.co/z93sU0ZFYU pic.twitter.com/9oURwG2Twm

— Barbican Centre (@BarbicanCentre) September 8, 2020
Academy of St Martin in the Fields
Academy of St Martin in the Fields is returning from COVID-19 lockdown with its re:connect autumn series. The eight concerts see the orchestra back at their home church, St. Martin-in-the-Fields, and performing to limited audiences in the heart of London.
Every performance includes music that explores and reflects on experiences of the pandemic over the last six months – with some catharsis being offered alongside the beautiful music they've chosen.
Attend the concerts, which welcome guest artists Toby Spence, Huw Watkins and conductors Eleanor Alberga and Oliver Zeffman, in person at St. Martin-in-the-Fields church between 26 September and 18 December.
Visit: www.asmf.org
Read more: We're getting a glimpse of what live music looks like post-lockdown >
Wigmore Hall welcomes back live audiences
From 14 September, Wigmore Hall is hoping to open its doors once again to live audiences – pending the latest advice from the government.
The Autumn season will consist of 80 concerts featuring 150 international musicians – from pianists Igor Levit, and Mahan Esfahani, soprano Sabine Devieilhe and mezzo Marianne Crebassa, to the Arditti Quartet and the Nash Ensemble – performing wonderful concerts to a reduced-capacity audience.
Before the government put the breaks on reopening music venues on 1 August due to a rise in coronavirus cases, the plan was to let only 56 people attend the concerts at the Hall itself. But that's now yet to be confirmed.
Luckily the performances will also be streamed online. See Wigmore Hall's update on Twitter below.
Visit: wigmore-hall.org.uk
1/3 Further to the Government announcement postponing previous permission for public concerts tomorrow, we will not proceed with our live broadcast event tomorrow.

— Wigmore Hall (@wigmore_hall) July 31, 2020
Ragged Music Festival in Mile End, London
Pianists Pavel Kolesnikov, Samson Tsoy and friends Nicolas Baldeyrou (clarient), Alina Ibragimova (violin), Andrei Ioniță (cello) and Elisabeth Leonskaja (piano) came together at the Victorian Ragged School Museum in London's Mile End for three days of wonderful live music making.
Across three intimate, but socially-distanced recitals, the musicians performed music by Messiaen, Bach, Beethoven, Schubert and more – from Friday 2 to Sunday 4 October.
Thanks to the generous donation of an anonymous donor, Ragged School Museum offered a limited number (20 percent) of tickets at £6 to students under 30.
Snape Maltings Concert Hall Reopens
Snape Maltings invited audiences back to the Snape Maltings Concert Hall from Friday 21 August, following the government's announcement that it is now safe for live performances to resume.
Tickets are up for grabs for performances from violinist Nicola Benedetti, saxophonist Jess Gillam, the Orchestra of the Age of Enlightenment, and so many other amazing artists.
There are also delightful outdoor live music and pizza evenings every Monday evening at Snape.
Visit: snapemaltings.co.uk
St John's Smith Square is open
This venue at the heart of London is another in the capital recently announcing that it's opening to limited audiences. Throughout autumn and winter, doors are open on lunchtime recitals, afternoon delights and evening concerts until the end of the year.
And if you're still self-isolating, or elsewhere in the world, there's still the chance to watch the wonderful programmes on offer online.
Visit: www.sjss.org.uk
Spotlight Chamber Concerts at St John's Church, Waterloo
Safely socially-distanced audiences are invited to a series of five chamber concerts featuring cellist Steven Isserlis, pianist Angela Hewitt, baritone Roderick Williams and pianist Susie Allan, the Solem Quartet, and Maxwell Quartet & clarinettist Anthony Friend.
In a series of immersive, live concerts the artists will be illuminated dramatically while audiences remain shrouded in dark – making for a truly memorable experience.
Tickets on sale now for 28 November to 19 December performances.
Aurora Orchestra brings live music back to King's Cross
Live music is ramping up in the capital, and Aurora Orchestra has announced a slate of live concerts open to in-person audiences.
For its Autumn 2020 season, the orchestra will return to its home at Kings Place and present works by Beethoven and Mozart throughout September and October – featuring brilliant soloists Imogen Cooper and Louis Schwizgebel for concertos by the latter.
"We're returning to live performance for the first time since lockdown," the orchestra says on its website. "Join us outdoors, in the concert hall and online."
Visit: www.auroraorchestra.com
Saffron Hall reopens
Saffron Hall, in Saffron Waldon, has re-opened for socially-distanced events.
And the classical music line-up is well worth the trip – with tenor Mark Padmore, pianist Julius Drake and the London Philharmonic Orchestra on the bill for the first weekend (9-11 October). Pianist Martin James Bartlett is also performing that weekend.
And later on in the season, Britten Sinfonia, saxophonist Jess Gillam, violinist Nicola Benedetti and recorder player Tabea Debus are among the artists bringing live music back to the space.
Visit: saffronhall.com
Christmas at Royal Albert Hall
Christmas *isn't* cancelled. And thanks to wonderful venues like the Royal Albert Hall, there is the added bonus of live music being planned for the festive season
Closed since March, the Hall has announced that it will be inviting socially-distanced audiences to visit for a limited programme – including Handel's Messiah, and 'My Christmas Orchestral Adventure'.
The festive announcement comes with a disclaimer – just keep an eye on your emails or jump on the Royal Albert Hall website to check for potential cancellations if you are planning to attend.
Visit: www.royalalberthall.com
Live opera returns to Glyndebourne
From 10 October, Glyndebourne will be launching its first live, indoor performances since lockdown. The iconic Sussex opera house's 'staycation' series will consist of socially-distanced concerts and small-scale operas, starting with In the Market for Love, a new version of Offenbach's Mesdames de la Halle.
We're also promised a reduced, semi-staged version of Mozart's The Magic Flute and five festive Christmas concerts.
Visit: glyndebourne.com
Bold Tendencies multi-storey carpark concerts
These guys commission visual art and architecture while running live music events in a Peckham multi-storey carpark.
As coronavirus restrictions ease, Bold Tendencies have handpicked performers to start bringing live music back to their lofty urban space, with Sheku and Isata Kanneh-Mason having performed in the summer, and more artists slated for September and beyond.
Visit: boldtendencies.com
Love Actually: Live in Concert with Full Orchestra
Calling all film fans – there're screenings of Love Actually taking place in December, with a full orchestra providing the soundtrack, and an audience invited in a socially-distanced capacity.
Taking place at the London Eventim Apollo, 'Love Actually Live In Concert with Full Orchestra' sees Craig Armstrong's beloved score for the iconic film performed live to picture – just like in the golden days of Hollywood.
So grab your tickets, don't forget your popcorn on the night, and remember that live music, actually, is starting to be all around again…
Visit: eventimapollo.com
Scottish Ensemble heads to the great outdoors…
Still not 100 percent comfortable with indoor concerts?
Not a problem if you're in and around The Dear Green Place – because the Scottish Ensemble is taking to outdoor spaces in Glasgow for two 50-minute live performances of Vivaldi's enduring Four Seasons on Sunday 11 October.
The concerts will take place at 3pm and 5pm respectively, at Glasgow's SWG3, which has a covered outdoor space.
Visit: www.scottishensemble.co.uk
Birmingham Contemporary Music Group returns to CBSO Centre
Birmingham Contemporary Music Group (BCMG) has announced it's returning to its home venue for indoor performances for the first time since lockdown.
On 22 November, BCMG celebrates the 100th anniversary of the birth of Romanian-born poet Paul Celan with three world premiere performances of works responding to his life and poetry – there's new music from Francisco Jose Andreo Gázquez, Andrea Sordano and Caterina Di Cecca.
On 13 December, BCMG's String Quartet returns to the centre for a premiere of another brand new piece, this time A Dust in Time (Passacaglia for Strings) by composer Huang Ruo. It's all about Buddhist symbolism interweaving with the Western music genre of passacaglia – sublime.
Visit: www.bcmg.org.uk
Live music returns to Temple Church in London
Temple Church Foundation has been putting on concerts for 17 years, and is now reopening to audiences following closure due to coronavirus – with concerts featuring the likes of The Sixteen (The Voices of Classic FM), soprano Ruby Hughes, cellist Natalie Clein and pianist Julius Drake.
Tickets are limited due to social distancing.
Visit: www.templemusic.org
We will be adding more venues and events as they open and are announced.
.


' Este Articulo puede contener información publicada por terceros, algunos detalles de este articulo fueron extraídos de la siguiente fuente: www.classicfm.com '