On the surface, Train's new album AM Gold is simple enough: It's partly about loving oneself, loving others, and the persistence of memory, and the music's shot through with a 1970s flair. But for singer Pat Monahan, the trick is to say something familiar in an individualized way — and very few in the highly saturated music business possess that preternatural ability.
"If I see the song title 'Home' again, I think I might cut my ears off," Monahan tells GRAMMY.com over Zoom, days before AM Gold's release on May 20. His mind then drifts to what makes a famous song so magical. "When Tom Petty is singing about being a bad boy, and all the good girls are home with broken hearts, he says 'I'm free,' but then he finishes it with 'Free falling.'"
As Monahan explains, Petty could have left the chorus at "free." But thankfully, he didn't.
That knack for making shopworn concepts like love, loss and heartbreak fresh and personal explains "Cleopatra," the GRAMMY-winning band's lush new single, premiering below. "It's a story that you learn when you're a child," Monahan says. "The vision of Cleopatra and Mark Antony and how brief their time together was."
How did he spin it into something that sounds new? Part of it's the writing; part of it's the inspired inclusion of Mexican singer Sofía Reyes. "She just sang it so much better than I ever could have done it," Monahan says. "And then, she added some Spanish to the song, which was just enough to be so romantic and beautiful."
Crank up "Cleopatra" below, pick up tickets for Train's upcoming tour with Jewel and Blues Travelerhere, and read on for an interview with Monahan about the genesis and execution of AM Gold.
This interview has been edited for clarity.
From the sound of the opening title track, you might think you're in for a full-on pastiche album. But then AM Gold hurtles into classic-sounding Train — albeit maintaining that vibe. Was that an intentional balance?
I don't think it was very conscious, to be honest. I went from writing with a bunch of professional writers in Los Angeles to lockdown, which forced me to write songs on Zoom. It ended up being that they were absolutely tremendous at this. Had I not had to do all of this virtually, I may not have recognized their talent and quality.
So, the one good thing that came out of this pandemic was getting to know the talent that is right in front of my face. Unfortunately, for me, when I write with professional writers, I tend to do more of what they are instead of them doing what I do best.
My band was the opposite — they recognized my strengths so much that they were able to help me write the songs that made the most sense for my personality and voice. Then, the record just took its own shape.
I think it's important to honor the musicians that comprise Train right now. They clearly played a major role in bringing AM Gold to life.
My favorite song on the record, still, is probably "Running Back." There's a couple that I really love, but "Running Back" came early. I was like, "Wow, we can probably do a lot of great songs if we can make this." That was with [keyboardist and guitarist] Jerry Becker and [ drummer] Matt Musty. They were actually here in my studio — in this dungeon that I live in.
And then, when it was lockdown, we just tried to continue it on Zoom — whatever we could. We would send some of these things to [guitarist] Taylor Locke and [bassist] Hector Maldonado to finish up, and have the girls — Sakai [Smith] and Nikita [Houston] — come and sing on the tracks when they were at the latter part of the writing.
What can you tell me about the song "AM Gold"?
"AM Gold" was the last track to be written, and it was basically because — as my manager would [say] — I'm not good at picking hits or even [knowing] what a good record sounds like, or album. People don't make albums anymore, but I should, because Train fans have been listening to albums for 25 or 30 years. So, I need to continue to make albums for people who like what I do.
As he was listening to 100 songs and recognized that these 11 or 13 songs were really special, he said, "This sounds like an AM Gold record." I didn't even know what that is, so I looked it up and found that these AM compilations were filled with all the yacht-rock stuff I love so much. Then, I wrote "AM Gold" to finish the record.
It had tempo, it's a self-love song, and it also fills the one part of the album I think was lacking as far as an "AM Gold" compilation record — that uptempo, disco, Bee Gees kind of thing. Or at least my version of it.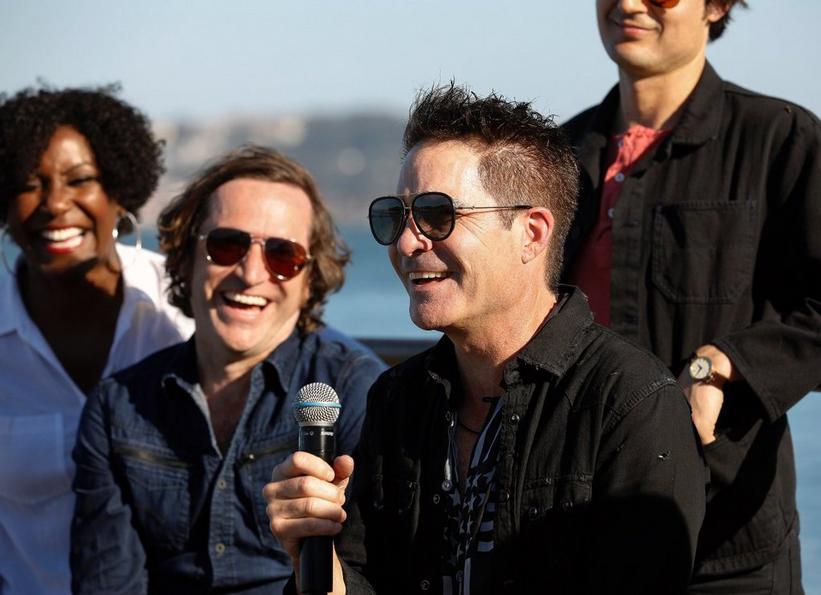 *Photo: Kimberly White/Getty Images for Capital Concerts*
Your singing throughout the album is really nice. Do you feel like you're having a growth spurt with your musicianship?
It's either that I'm growing and getting better and understanding my own voice, or autotune has really gotten great over the past 25 years. [Laughs]
**Spiritually speaking, where does AM Gold fit into your discography? Can you articulate how it expands on past albums like A Girl, a Bottle, a Boat?**
You know, I was listening to A Girl, a Bottle, a Boat the other day. We were at a Mother's Day event, and we got this room where we could all be together as a family, and they started to play music. All of a sudden, these songs from A Girl, a Bottle, a Boat came on, and I was like, "Man, I love this album. It's so different from AM Gold, but I love it."
There are albums that I listen to from Train's past, and I can't get through much of it — because I want to take it back and do it better, or whatever. It'd probably be like a writer reading a novel he wrote when he's young and now he — or she — is developed in their own craft.
I feel like AM Gold is definitely me moving forward in quality. I think the songs are less quirky. And I like quirky. I wrote "soy latte" in a love song. I like those moments of "different," but there's really no weird, quirky song on this record.
What instrumental or production techniques did you pursue to get the particular sound you wanted? Obviously, you're digging into the toolbox of the '70s.
You know, there were a few moments of clarity for me.
One was, I went and saw the Eagles, and I was so — I don't want to say "blown away," but I was impressed how musically exceptional they were. So, I really wanted guitars to have a beautiful place on this. There's little riffs. Nobody's looking for a three- or five-minute guitar solo anymore, but I wanted there to be moments of "Those are some tough guys. Seeing that live would be really special."
Another moment was that [producer and arranger] Rob Mathis, who's been a lifelong friend, wrote a string and horn arrangement on many of the songs. And when he listened to the songs, he knew [Snaps fingers] immediately what I was wanting.
So, he was like, "We're going to go for that old Philly horn/string sound from the days of all these great Philly artists." Including Hall and Oates! They had some great Philadelphia sounds in there. He knew enough to make those sorts of arrangements, and I think that really made the record a lot better.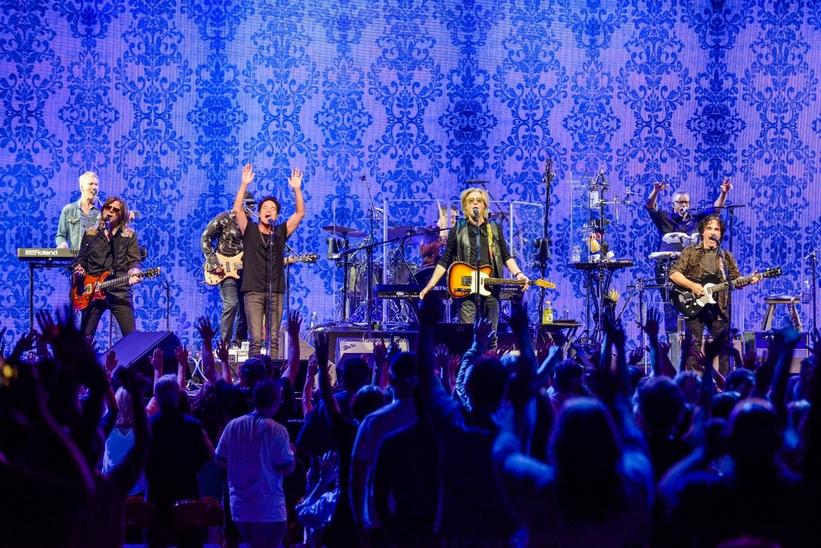 *Hall and Oates with Pat Monahan performing in Portland, Oregon, in 2018. Photo: Anthony Pidgeon/Redferns*
Last night, I was listening to Bob Seger's Night Moves and Fleetwood Mac's Tango in the Night, marveling at how every second was packed with ear candy. Were you trying to imbue AM Gold with that quality of sweating the details?
Probably. When you hear a song before all the little fun moments, it sounds great — because it has to. If it's not a good song, it's not a good song; it doesn't matter how many special effects you put into a movie. But if you have a good song and then you add the special effects, then it's really special, and that feels good.
Because my Night Moves, when I was a kid, was [Supertramp's] Breakfast in America. Listening to all the special things happening in those songs was inspiring.
We're talking in part because we're going to help bring "Cleopatra" into the world. Can you expand on that song and how Sofía Reyes got on board?
This was a kind of early song, too, around the same time as "Running Back." I don't know why "Cleopatra" was the vision of Cleopatra and Mark Antony and how brief their time together was. It's a story that you learn when you're a child. That was the inspiration for the song, which was pretty simple.
But Sofía is a really amazing artist. And when we asked her to be part of it, she filled the void which was missing so much. I was singing the la-la-las, and it needed to be a woman, because I'm singing to a woman who's singing to me.
She just sang it so much better than I ever could have done it. And then, she added some Spanish to the song, which was just enough to be so romantic and beautiful. I really appreciate her being part of it.
And then, we made a little music video for it a couple of weeks ago. She's just the sweetest, loveliest young woman that's around. She's going to be a huge star, so I was just happy to have her be part of this as she gets to her place in ruling the world one day.
What do you specifically appreciate about her artistry?
Well, she sings with no pretentiousness. She's been doing this since she was 15. I think she moved from Mexico to Los Angeles 10 years ago; she's 26 now. That takes a lot of courage to do that, because she moved to LA with her managers. It took a lot of courage for her parents to believe that she was able to do that.
She's just a very authentic person. That's the thing I appreciate most about all people.
Same question, but regarding Jewel — who's obviously been around much longer.
I mean, talk about authentic! [Laughs.] No one's more authentic than Jewel. I've known her in a peripheral way for 20 years, and now I know her better. I love her music; I love her voice; I love her Instagram. What she speaks about and stands up for.
Also, I love that when she texted me about the tour, it wasn't like, "Hey, I'd better get my rider." She texted me, "Are there going to be any other kids out on tour this summer? Because I'd love it if my son had some kids to hang out with." What an amazing text that is! In a world of living in the entertainment business, there's a whole lot of other ways that could have gone. So, I'm really looking forward to spending time with her.
She appears on "Turn the Radio Up" and will be on your upcoming tour. Why her, specifically, for that song?
Well, she was going to do this tour with us. I sang on her record, and we just thought it'd be a good idea if we got on each other's albums for the sake of a great summer. And also, we'd been friends with each other for such a long time, so it was about time.
Do you habitually listen to your own music? Is AM Gold the kind of record you'd enjoy putting on around the house?
In the beginning, I listened to AM Gold more times than anyone will probably ever listen to it, because I wanted to make sure there's not a moment of cringe while I'm in the process. It's OK if I look back at it and go "Ugh, I wish that song was whatever." But not at the time. I can't doubt anything, because if I do, I can't expect other people to not doubt it.
I don't usually obsess on a record. I'll listen to it a lot, then I won't listen for a long, long time.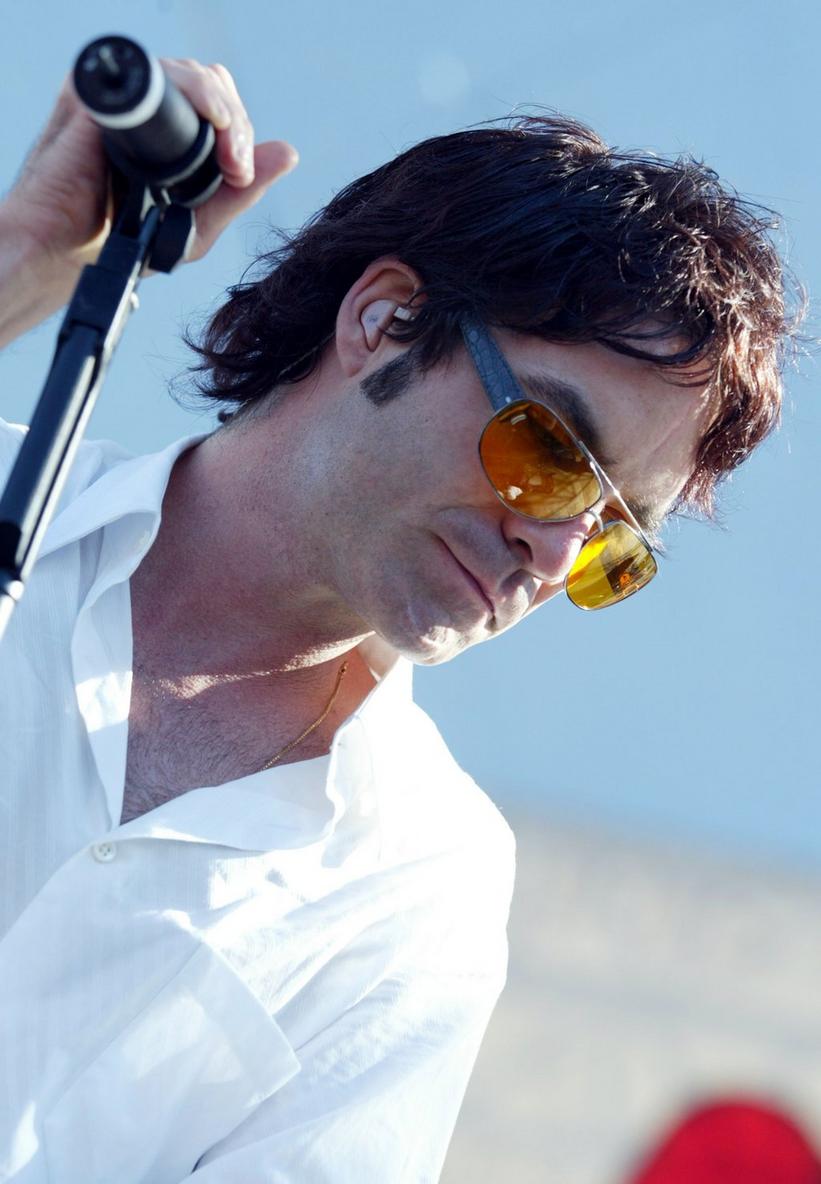 *Pat Monahan in 2002. Photo by J. Shearer/WireImage*
Whether we're talking about your past music or someone else's music, what makes you cringe about certain works? Is it just that pretentiousness you mentioned, or something else?
Well, there are just certain things where I wonder if people are trying hard enough. I mean, the goal of any storyteller is to say, "Look, we've already said the same story." But you have to figure out a creative way to say it in a way that nobody else has said it. That's the idea behind music, in my eyes.
When Tom Petty is singing about being a bad boy, and all the good girls are home with broken hearts, he says "I'm free," but then he finishes it with "Free falling." Because he could just be like, "I broke up with her! I'm free!" but he [doesn't].
So, there's a way to do music that's so creative, that I just cringe when it seems like they're just trying to get on the radio instead of saying something special in a special way.
Many artists are sick of the product they're promoting by the time it comes out, but you seem pumped about this album.
It's the opposite, because I'm really looking forward to the album being heard by Train fans. Then, we can immediately see what people are gravitating toward and playing over and over again, because that's an indicator of what we can put in our set.
There are probably 15 or 16 songs that people want to hear every night, and if we don't play them, they'll be disappointed. But we can also add a handful of new ones, and it's going to be fun for me to see which new ones people like — because they're always different than the ones I love.
I forgot to mention that my personal favorite song on the record is "Amber Light."
It's so funny you say that, because I just said it's going to be different than mine. That's the one record that I was like, "You keep complaining about 'Amber Light' and the lyrics being so simple. Should you just take it off the record?' I was like [Resigned tone] 'I don't know. I don't know if I should take it off or leave it in there.'"
That song was just so simple — about going back to high school and being in love for the first time and going to bonfires and having six-packs of beer and trying to get girls to like you. How sometimes the people who affect you the most will never, ever know it. I'm 53, and there's no way that the 53-year-old woman who made a huge difference in my life even thinks about it anymore.
That was the one song that I almost didn't want on the record, and it's so funny that that's the one your ears heard the way you wanted to hear it.
**Natalie Imbruglia Opens Up About Grief, Unconditional Love & Her Reclamatory New Album Firebird: "I Always Fly Home To Myself"**
' Este Articulo puede contener información publicada por terceros, algunos detalles de este articulo fueron extraídos de la siguiente fuente: www.grammy.com '