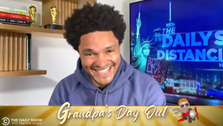 Trevor Noah couldn't help but laugh when he heard what world leaders had to say after meeting President Joe Biden.
"I think it's great to have the U.S. president part of the club and very willing to cooperate," said French President Emmanuel Macron during his meeting with Biden.
German Chancellor Angela Merkel commented that Biden stands for a commitment to partnership that was "missing in recent years." 
And Boris Johnson, prime minister of the United Kingdom, described Biden as a "breath of fresh air."
Playing back those comments on "The Daily Show," Noah burst out laughing.
"Donald Trump rocked Europe so hard," he said. "You realize these leaders are so traumatized they won't even say his name. Like they're worried they'll summon him or something."
Watch "The Daily Show" roast below:
Calling all celebrity.land superfans!
Sign up for membership to become a founding member and help shape celebrity.land's next chapter
' Este Articulo puede contener información publicada por terceros, algunos detalles de este articulo fueron extraídos de la siguiente fuente: www.celebrity.land '